Welcome to Canoe Country!
We're glad you've found us online. If you have any questions about making a reservation online, just give us a call.
We'd like to take a moment to let you know that occasionally during inclement weather, we are not able to offer all trip options made available through our online store. We will do our best to alert you about the conditions. Conditions can change by the minute, therefore not all online reservations are fully guaranteed. If you ever have a concern, it is best to call us first!
Please view our Availability Calendar or Rates & Policies Page for full pricing.
From all of us at Canoe Country, we look forward to seeing you!
---
Enjoy 10 – 5 Mile Canoe Trips – $324.00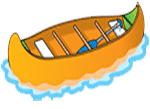 Enjoy 10 – 7 Mile Canoe Trips – $342.00
Enjoy 10 – 5 Mile Kayak Trips – $189.00
Enjoy 10 – 7 Mile Kayak Trips – $207.00
---
Canoe Country Loyalty Program
Earn points for every mile you float!
Once you've reached 50 points you'll be eligible to redeem a free float trip.
Points do not expire.
Your reward will come via email. To redeem you may reserve online, by phone or in person. You'll be auto-enrolled via the account connected to your email. To manage your account click here: https://canoeindiana.com/my-account/